Website: theteashoppewv.com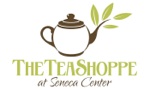 Located in the Seneca Center, The Tea Shoppe at Seneca Center carries over 100 premium loose leaf teas including herbal tisanes, tea gift items, and a fabulous lunch menu of gourmet sandwiches, fresh salads, and homemade soups, scones, quiche, and sweets. Or you can choose one of the tea services such as the Afternoon Tea.
The Tea Shoppe at Seneca Center asked that you join them observing the English tradition of Afternoon Tea. The Tea Shoppe offers a variety of menu options served with their fine brewed loose leaf teas. From a simple scone with Devonshire cream and Lemon Curd to our Royal Tea, there is something for every discerning Tea Lover's palate.
The Tea Shoppe at Seneca Center provides an extensive selection of premium loose teas and tea related gift items and accessories. Come in and browse, take a whiff from the sniffing jars, and enjoy the atmosphere.
Whether you are looking for a Tea for Two, Baby Shower, Bridal Luncheon, or a Birthday Celebration, a visit to The Tea Shoppe at Seneca Center is truly an unforgettable experience. Stop by to relax, refresh, and reflect and indulge yourself in the utterly civilized pleasure of taking time for tea.
Shoppe Hours:
Monday – CLOSED
Tuesday – 10:00 am – 4:00 pm
Wednesday – 10:00 am – 4:00 pm
Thursday – 10:00 am – 4:00 pm
Friday – 10:00 am – 4:00 pm
Saturday – 9:00 am – 5:00 pm
Sunday – 11:00 am – 3:00 pm